Have you ever wondered how to rejoice? How to be happy? I do fairly often. The Mormon Third Eye research team found a handbook for rejoicing embedded in the Book of Mormon- Mosiah Chapters 2-5- King Benjamin's general conference address. The team found six principles that, if adhered to faithfully, will bring you joy.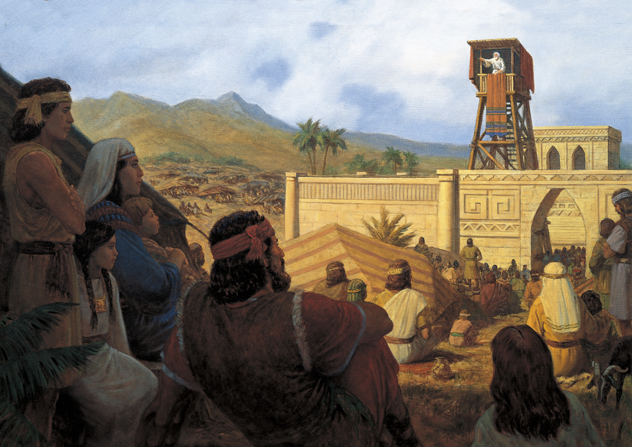 1. A thankful heart for all that God has given us can bring us joy and help us feel the love of God.
At the opening of Mosiah Chapter 2, In preparations for this general conference, they are told to "give thanks to the Lord their God, who had brought them out of the land of Jerusalem, and who had delivered them out of the hands of their enemies, and had appointed just men to be their teachers, and also a just man to be their king, who had established peace in the land of Zarahemla, and who had taught them to keep the commandments of God, that they might rejoice and be filled with love towards God and all men."
2. Serving others in the name of God brings us joy.
Mosiah 2:17, 20-21:
"17 And behold, I tell you these things that ye may learn wisdom; that ye may learn that when ye are in the service of your fellow beings ye are only in the service of your God.
20 I say unto you, my brethren, that if you should render all the thanks and praise which your whole soul has power to possess, to that God who has created you, and has kept and preserved you, and has caused that ye should rejoice, and has granted that ye should live in peace one with another—
21 I say unto you that if ye should serve him who has created you from the beginning, and is preserving you from day to day, by lending you breath, that ye may live and move and do according to your own will, and even supporting you from one moment to another—I say, if ye should serve him with all your whole souls yet ye would be unprofitable servants."
3. Keeping the commandments keeps us blessed and happy.
Mosiah 2:41: "And moreover, I would desire that ye should consider on the blessed and happy state of those that keep the commandments of God. For behold, they are blessed in all things, both temporal and spiritual; and if they hold out faithful to the end they are received into heaven, that thereby they may dwell with God in a state of never-ending happiness. O remember, remember that these things are true; for the Lord God hath spoken it."
4. A knowledge of the birth, ministry, atonement, and resurrection of Jesus Christ can bring us joy.
In Mosiah 3:3-11 we are introduced to the fourth principle of rejoicing, which actually came from an angel: "And he said unto me: Awake, and hear the words which I shall tell thee; for behold, I am come to declare unto you the glad tidings of great joy. For the Lord hath heard thy prayers, and hath judged of thy righteousness, and hath sent me to declare unto thee that thou mayest rejoice; and that thou mayest declare unto thy people, that they may also be filled with joy." The angel then teaches King Benjamin about the birth, ministry, atonement, and resurrection of Jesus Christ.
5. True repentance, forgiveness, and humility can bring us joy.
In Mosiah 4, we learn that as a result of King Benjamin's preaching, his people had "fallen to the earth, for the fear of the Lord had come upon them." They had "viewed themselves in their own carnal state, even less than the dust of the earth. And they all cried aloud with one voice, saying: O have mercy, and apply the atoning blood of Christ that we may receive forgiveness of our sins, and our hearts may be purified; for we believe in Jesus Christ, the Son of God, who created heaven and earth, and all things; who shall come down among the children of men." It was after this broken-hearted confession of guilt and request for forgiveness that "the Spirit of the Lord came upon them, and they were filled with joy, having received a remission of their sins, and having peace of conscience, because of the exceeding faith which they had in Jesus Christ who should come."
In verse 11 he revisits the benefits of true repentance and forgiveness: "And again I say unto you as I have said before, that as ye have come to the knowledge of the glory of God, or if ye have known of his goodness and have tasted of his love, and have received a remission of your sins, which causeth such exceedingly great joy in your souls, even so I would that ye should remember, and always retain in remembrance, the greatness of God, and your own nothingness, and his goodness and long-suffering towards you, unworthy creatures, and humble yourselves even in the depths of humility, calling on the name of the Lord daily, and standing steadfastly in the faith of that which is to come, which was spoken by the mouth of the angel."
6. Faith in the Lord Jesus Christ and his gospel can bring us joy.
After finishing his address, King Benjamin asked for feedback: he wanted to know if "they believed
the words which he had spoken unto them." In Mosiah 5:4 we find their answer. "And it is the faith which we have had in the things which our king has spoken unto us that has brought us to this great knowledge, whereby we do rejoice with such exceedingly great joy."
Don't worry. Be happy.